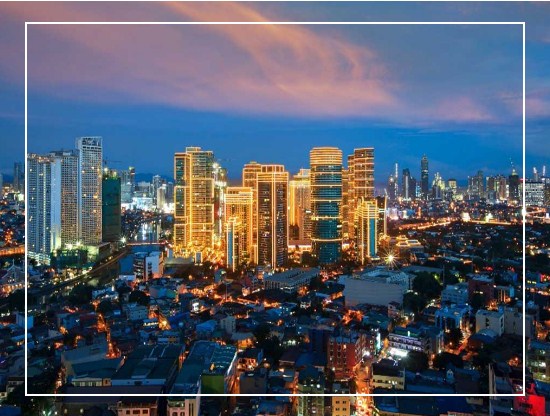 The Philippines is a Southeast Asian country in the Western Pacific, comprising more than 7,000 islands. Its capital, Manila, is famous for its waterfront promenade and centuries-old Chinatown, Binondo. Intramuros, a walled city in colonial times, is the heart of Old Manila. It's home to the baroque 17th-century San Agustin Church as well as Fort Santiago, a storied citadel and military prison.
President: Rodrigo Duterte Trending
Capital: Manila
Dialing code: +63
Currency: Philippine peso
Official languages: English, Filipino
MBBS in PHILIPPINES Highlights
| | |
| --- | --- |
| Country Name | Philippines |
| Country Code | +63 |
| Country Rank | 51st At Good Country Index among 163 countries |
| Currency | Philippine Peso(PHP) |
| Capital | Manila |
| Weather | Humid Country |
| Language | Filipino and English(Homogeneous) |
| Accrediations | MCI, WHO, FAIMER,USMLE |
| Course Duration | 6 years |
| Teaching Medium | English |
| Mess Facility | Veg/ Non-Veg |
| University Type | Government/Private |
| Hostel Fees Range | About 1000$/Year |
| Tution Fees Range | 4000-4500$/Year |
ABOUT MBBS IN PHILIPPINES

The medical course in Philippines is called the MD program [Doctor of medicine]. The MD program is equivalent to MBBS of UK, India, Pakistan and other Commonwealth countries. This degree comprises of medical theory, practicals and clinical rotation giving a better exposure to the students. The degrees obtained from medical universities in Philippines are recognized by World Health Organization and Medical Council of India. Philippines is one the countries known for providing a quality education in medicine like MBBS, MD etc. The higher level of practical sessions and experienced teaching staff in Medical colleges of Philippines has gained significant popularity around the world. The infrastructure of the medical universities, the curriculum and atmosphere in the colleges of Philippines makes it a preferred location of education for international students. The cost of the complete MBBS course in Philippines is much lower as compared to other countries. The medical universities are approved by the Medical Council of India(MCI) and WHO. The medium of teaching is English which breaks the major barrier of communication for international students. The calculations say that the students who have completed MBBS, MD courses from Philippines are known to have 100% success rate, in the region under USMLE.
HOW TO APPLY FOR ADMISSION TO MBBS IN PHILIPPINES.

MBBS admission in Philippines at any of the medical college have a simple and easy procedure. The Philippines MBBS admission involves application through ATHARV OVERSEAS EDUCATION CONSULTANCY along with the Application Fees as its official Overseas Education Consultant in Mumbai who has specialized on admission in MCI approved medical universities and MCI approved medical colleges in India and other countries for MBBS in India as well as MBBS abroad such as MBBS in USA, Russia, Georgia, China, Europe and in many other countries as well. Please note that ATHARV does not charge any registration cost in Advance. The student needs to pay the first lot of service charge to ATHARV on issuance of the confirmation letter by the University / association of the universities. On receipt of the fees, ATHARV would apply for the invitation letter from the Ministry of Education. This Invitation Letter will further utilized for the Visa application in the embassy of Philippines. On issuance of Visa, the student would have to pay the first year fees directly at the ATHARV OFFICE, along with the hostel fees (Optional).
ADMISSION PROCEDURE FOR MBBS IN PHILIPPINES.

ELIGIBILITY CRITERIA
Above 50% in 10+2, PCB.
Age should be 17 years as on 31st Dec. in the year of seeking admission
NEET Qualified
DOCUMENTS REQUIRED
Original passport
10th Board Marksheet
12th Board Marksheet
Birth Certificate
Passport sized Photographs
Bank Statement
Step wise procedure for admission
Detailed counselling at our centre.
arrangements for arrival respective to University selected
Submission of scanned copies of your documents(listed above) to initiate the issuance of visa Invitation Letter. It takes approx. 3 weeks
Visa stamping, which requires submission of original documents and medical reports.
Filling up of the application form of university is done to in vitiate the process of admission. Here Registration payment is done.
Within 7 days of registration payment, the University grants admission confirmation Letter to ATHARV EDUC ATION CONSULTANCY
Make further processing charges payment and collect your admission letter from our office.
Fly a step towards your dream career through ATHARV
FEES STRUCTURE FOR MBBS

The MBBS in Philippines degree is called BS-MD. This is in the case of a student who is going to the Philippines after class 12th. BS or the pre-medical course will be taught for approximately 2 years AND THEN IT IS FOLLOWED BY MBBS DEGREE
NAME OF THE UNIVERSITY
Location
1st YEAR (BS PSYCHOLOGY)
2nd YEAR (BS PSYCHOLOGY)
1st YEAR(MD COURSE)
2nd YEAR (MD COURSE)
3rd YEAR (MD COURSE)
4th YEAR (MD COURSE)
TOTAL TUTION FEES
AMA SCHOOL OF MEDICINE
PAMPANGA
300,000 PHP
200,000 PHP
250,000 PHP
250,000 PHP
150,000 PHP
100,000 PHP
1,250,000 PHP
UNIVERSITY OF PERPETUAL HELP
MANILA
450,000 PHP
450,000 PHP
300,000 PHP
200,000 PHP
150,000 PHP
1,550,000 PHP
OUR LADY OF FATIMA UNIVERSITY
MANILA
355000 PHP
355000 PHP
325000 PHP
325000 PHP
325000 PHP
325000 PHP
2010000 PHP
DAVAO MEDICAL SCHOOL FOUNDATION
DAVAO
12,300 $
5100 $
5100 $
5100 $
5100 $
32700 $
UV GULLAS COLLEGE OF MEDICINE
MANDAUE
9700 $
4350 $
4000 $
4000 $
4000 $
26050 $
"LET US ALL TOGETHER MAKE YOUR DREAM COME TRUE"
COLLEGES/UNIVERSITIES IN PHILIPPINES