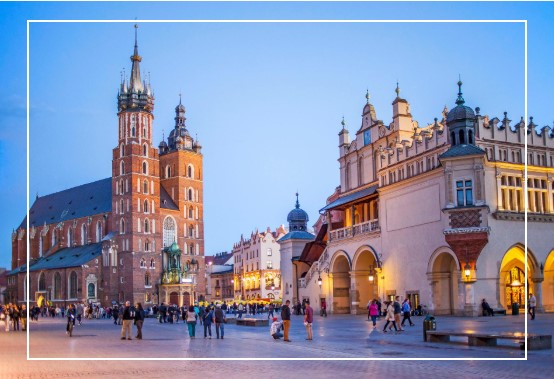 ABOUT POLAND
Since 2010, Poland has became the best choice for Indian students for pursuing MBBS abroad due to high quality of medical education, low tuition fees structure & high growth rate after completing MBBS in Poland. From last 5 years, more than 7000 students are already studying medicine in Poland. Now a days, many students from India are preferring to opt for MBBS in Poland over India. The Poland medical schools are some of the most reputable medical schools around the world. The degree from Poland medical universities is a globally recognized and the students are eligible to appear for the MCI screening test. MBBS in Poland is facilitating Indian students with top medical universities which are recognized by MCI (Medical Council of India) & accredited by the Ministry of Education & Science and the Ministry of Health. MBBS admission in Poland is a smooth and easy process with us, so that students can apply directly to the selected top medical universities or colleges without any hassle.
MBBS in POLAND Highlights
| | |
| --- | --- |
| Country Name | Poland |
| Country Code | +48 |
| Country Rank | 34th In Education Index |
| Currency | Polish Zloty(PLN) |
| Capital | Warsaw |
| Weather | Continental and Very Cold Winters |
| Language | Polish and English(Homogeneous) |
| Accrediations | MCI, WHO, FAIMER,USMLE |
| Course Duration | 6 years |
| Teaching Medium | English |
| Mess Facility | Veg/ Non-Veg |
| University Type | Government/Private |
| Hostel Fees Range | About 2700 $/Year |
| Tution Fees Range | 10,000-11,000 $/Year |
ABOUT MBBS IN POLAND

Every year, there are more than 10,000 Indian students who take admission in top Medical Universities of Russia. Russia has become one of the most popular destinations for higher studies among the Indian students due to its global standards of education at an affordable price. The reason why students choose to study MBBS in Russia is to get the practical exposure as well as best employment opportunities all across the globe. Studying MBBS in Russia is one of the best options because all Russian Medical Universities are government recognized and are listed in World Health Organization (WHO), and Medical Council of India (MCI). The students can practice anywhere in the world including India after clearing the screening exam. The Russian Medical Universities assist with the most advanced and sophisticated standard of higher education from all across the globe.
WHY STUDY MBBS IN POLAND

Medical Study in Russia is very easy for a normal student because any student from all over the globe can take direct MBBS Admission without any entrance exam. MBBS fee in Russia is very low because the Russian Government provides subsidy for education. Average MBBS fee in Russia is between 2.5 Lacks to 5 Lacks per year. All Russian Medical Universities are listed in WHO and MCI so a student who gets an MBBS degree from Russia can practice anywhere in the world including India. Students from all over the globe go to Russia for MBBS Study and all medical universities provide quality medical education and practical knowledge. Students get fully furnished hostel facility inside the university campus with fresh and quality food. MBBS Students can get scholarship also if they fulfill the scholarship criteria. All MBBS students in Russia get Medical Insurance for all courses and get full medical treatment when they need. Students get training for MCI screening test during the medical course and professors are well aware about the MCI screening test. Medical courses are taught in English and Russian languages, MBBS students also get training to learn Russian Language because by learning Russian language a student can communicate with patients in the hospital during the time of medical practice.
BENEFITS OF MBBS IN POLAND FOR INDIAN STUDENTS 2020

No Entrance exam & No Donation.
Hassle Free Admission Procedure
Low & Subsidized course fees.
Worldwide Recognition of the Degrees provided by Medical Universities of Poland.
Good Infrastructured Universities
Indian Mess is Available in most of the Universities.
Excellent Result in MCI Screening Test
Reference Available of Students working in Leading Hospitals Across the World (our pass outs are working not only in India but in Australia, Canada, USA, UK and other major countries across the globe)
100% Visa Guaranteed
All the universities are Government Universities of Poland.
ADMISSION PROCEDURE FOR MBBS IN POLAND

ELIGIBILITY CRITERIA
Above 50% in 10+2, PCB.
Age should be 17 years as on 31st Dec. in the year of seeking admission
NEET Qualified
DOCUMENTS REQUIRED
Original passport
10th Board Marksheet
12th Board Marksheet
Birth Certificate
Passport sized Photographs
Bank Statement
Step wise procedure for admission
Detailed counselling at our centre.
arrangements for arrival respective to University selected
Submission of scanned copies of your documents(listed above) to initiate the issuance of visa Invitation Letter. It takes approx. 3 weeks
Visa stamping, which requires submission of original documents and medical reports.
Filling up of the application form of university is done to in vitiate the process of admission. Here Registration payment is done.
Within 7 days of registration payment, the University grants admission confirmation Letter to ATHARV EDUC ATION CONSULTANCY
Make further processing charges payment and collect your admission letter from our office.
Fly a step towards your dream career through ATHARV
FEES STRUCTURE FOR MBBS IN POLAND

| NAME OF UNIVERSITY | 1ST YEAR FEE | 2ND TO 6TH YEAR FEES | HOSTEL FEE | TOTAL |
| --- | --- | --- | --- | --- |
| MEDICAL UNIVERSITY OF GDANSK(MUG) | 17664$ | 11500$ | 2664$ | 88484$ |
1 USD = INR 70
PROCESSING CHARGES = 2 LAC (INCLUSIVE OF):
ADMISSION LETTER
INVITATION LETTER
VISA
TRANSLATION CHARGE
REGISTRATION
ONE WAY AIR TICKET
CONSULTANCY CHARGES
DOCUMENTS REQUIRED:
10TH CLASS RESULT
12TH CLASS RESULT
PASSPORT
BIRTH CERTIFICATE
REGISTRATION
20 PHOTOGRAPHS
NEET SCORECARD (SC/ST/ OBC-107 ) (GENERAL-134)
MEDICAL CERTIFICATE
BANK STATEMENT
AFFIDAVIT
"LET US ALL TOGETHER MAKE YOUR DREAM COME TRUE"